Drone inspirations can provide much of the inspiration for amateur drone pilots and even for professionals. Taking pictures and videos with a drone, flying a drone is fun, but in the end, it's all about results.
Creating interesting aerial imagery, whether that be drone photos or drone videos is the most exciting part for most drone pilots.
reaching places unknown or hard to reach by foot is no more an issue and you take home after every flight these spectacular drone photos and drone videos and create lasting memories.
Visual artists use drones to capture beautiful new images and camera angles

Peter Diamandis
Below is a list of 9 websites & platforms for you to find drone inspirations from the best drone photos and drone videos.
9 Best Websites to Find Drone Inspirations
Dronestagram
Dronestagram is a photo-sharing community dedicated to drone photography, where hobbyists can share their aerial photos and videos. The site launched in July 2013 by Eric Dupin and is owned by his company Dronescape and it has been also described as "Instagram for drones".
As one of the most popular platforms, it attracts many drone pilots to share their work online, and you can find many drone inspirations. The website holds many contests throughout the year with amazing aerial related prizes.
AirVūz
AirVūz was first launched in 2015 and it has become the world's leading drone video and photography sharing platform and the largest global community for drone enthusiasts.
AirVuz is used by drone content creators from across the world who can use the platform to upload and share videos and photos for free or registered users who are able to view the latest content, including curated collections of alluring places and topics, and engage with top aerial content creators and drone pilots.
Instagram
Instagram is a photo and video-sharing social networking service owned by Facebook and it was first launched just for iOS in 2010 and quickly became the 4th most downloaded mobile app of the year. It allows you not just to connect with friends, share what you're up to, or see what's new but also find photo and video drone inspirations from others all over the world.
Instagram introduced hashtags to help users discover both photos and each other's content and offers a number of photographic filters that users can apply to the images. The platform first introduced a 15-second video sharing in June 2013, while later had an increase of the length.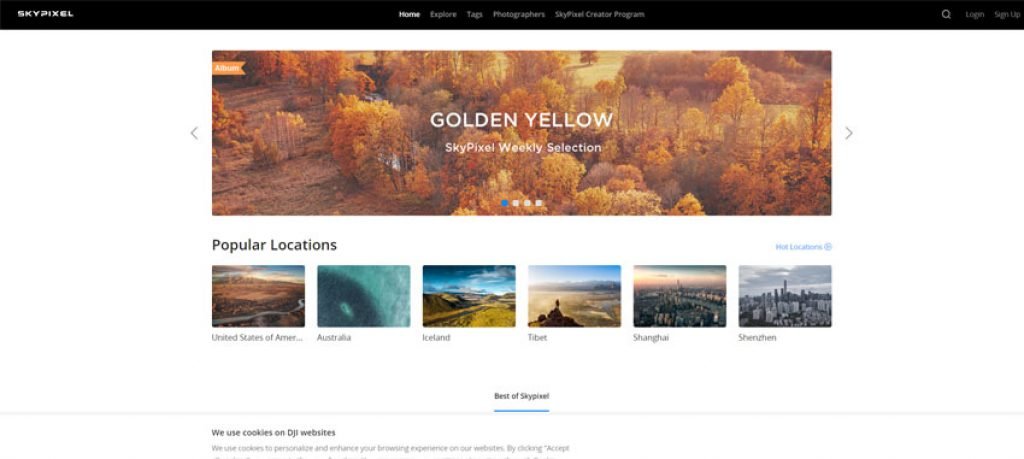 SkyPixel
DJI back in 2014 launched SkyPixel as a drone community platform. SkyPixel allows you not just to share your aerial photography and cinematography, but also to find tips and connect with others. The platform offers many perks for content creators such as a chance to partner with DJI social media accounts and blogs, exclusive coupons for the DJI online store and more.
The platform is owned by DJI – the global leader in developing and manufacturing high performance, reliable, and easy-to-use small unmanned aerial systems.
Facebook
Probably most of you have heard about Facebook, an American online social media and social networking service based in Menlo Park, California, and became the most popular social media platform. This platform is not only popular to connect and engage with friends and family but also to find great photos and videos for your drone inspirations.
Creators can create a dedicated page for their work which serves as a Facebook fan page. The platform has over 2.70 billion monthly active users.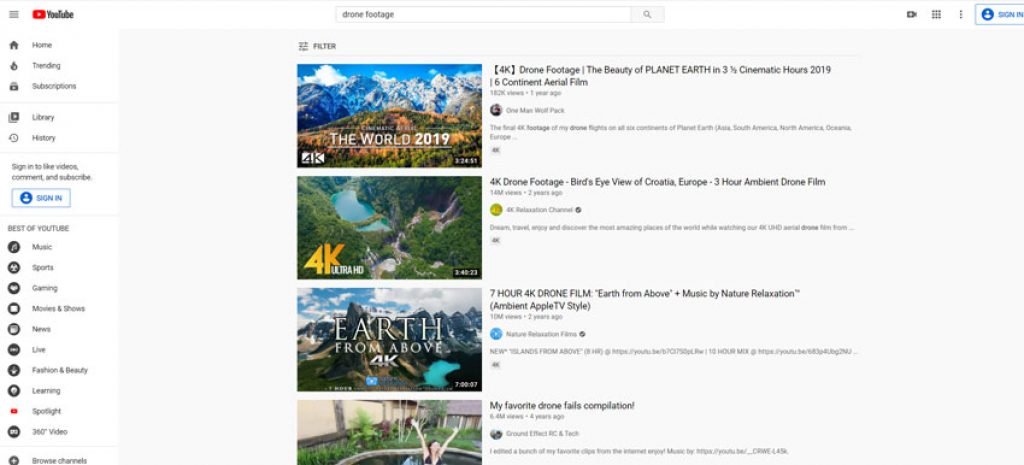 YouTube
YouTube is an online video-sharing platform, created in February 2005 by three former PayPal employees. Later it was purchased from Google for over $1 billion and it became the second-largest search engine after Google. it is a great place where you can find amateurs and professional videos from any aspect.
More than 500 hours of video content are uploaded to YouTube every minute. YouTube offers users the ability to view its videos on web pages outside their website. If you are a content creator this is a great way to host for free your videos and embed them into your website.
Vimeo
Vimeo is another video hosting, sharing, and services platform where you can find great drone inspirations. Vimeo instead of using ads it derives revenue by providing subscription plans for video content producers and businesses, and offering software service with video editing, creation, and broadcasting tools.
Vimeo was founded in November 2004 and it offers several paid membership options with advanced features. The free account is a great for most people and as it comes with 500MB per week of upload space.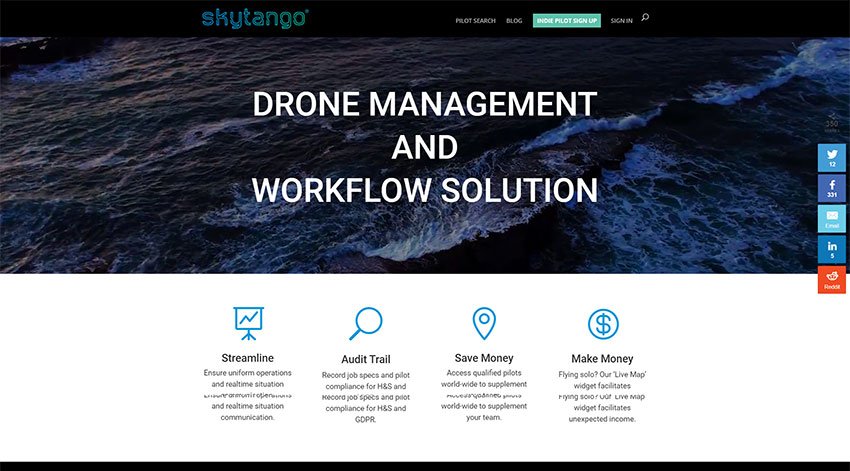 Skytango
Skytango is a great platform not just to find drone inspirations but also It's a great marketplace that drone pilots can sell their aerial drone footage to media buyers from around the world.
Potential buyers can contact directly up to 4 drone pilots and choose the best pilot for your job. The platform was set in a partnership with BBC News.
Drone Film Festivals
The New York City Drone Film Festival is the world's first event primarily focused on drone cinematography. Filmmakers from all over the world can use this international festival to present their work to the world. It is popular within industry professionals and the drone community.
This festival leads the way to the many more drone film festivals that are popping up around the world but it is still one of the most popular places to gain some drone inspirations.
No matter if you are an amateur drone pilot, professional or you are just trying to decide if this is something you want to do, finding drone inspirations and platform where you can share your drone footage is always important as well as having a good educational base for working with drones, where drone learning centers can help.